Tonal Domination Studio is a multimedia company specializing in audio/video production and graphic design.  Owner/Operator Micheil Knapp has 20+ years experience in audio and video production, with an emphasis on audio recording/mixing/mastering as well as video production/editing/post production and finalization.  Throughout his career, Micheil has had the pleasure of working with talents all across the spectrum of the multimedia world, from indie filmmakers and local icons such as The Tink and VidDream Television on up to world renowned acts such as Clutch, Skeletonwitch, Bloodclot!(ex-Biohazard & Cro-Mags lineup), Type O Negative, and Wednesday 13 to name a few.
Tonal Domination Studio will go above and beyond, and sometimes completely outside of the box to utilize a blend of both traditional and unorthodox recording, mixing, and video methods and techniques to achieve the dynamic audio or visual tone that our clients desire and can appreciate most.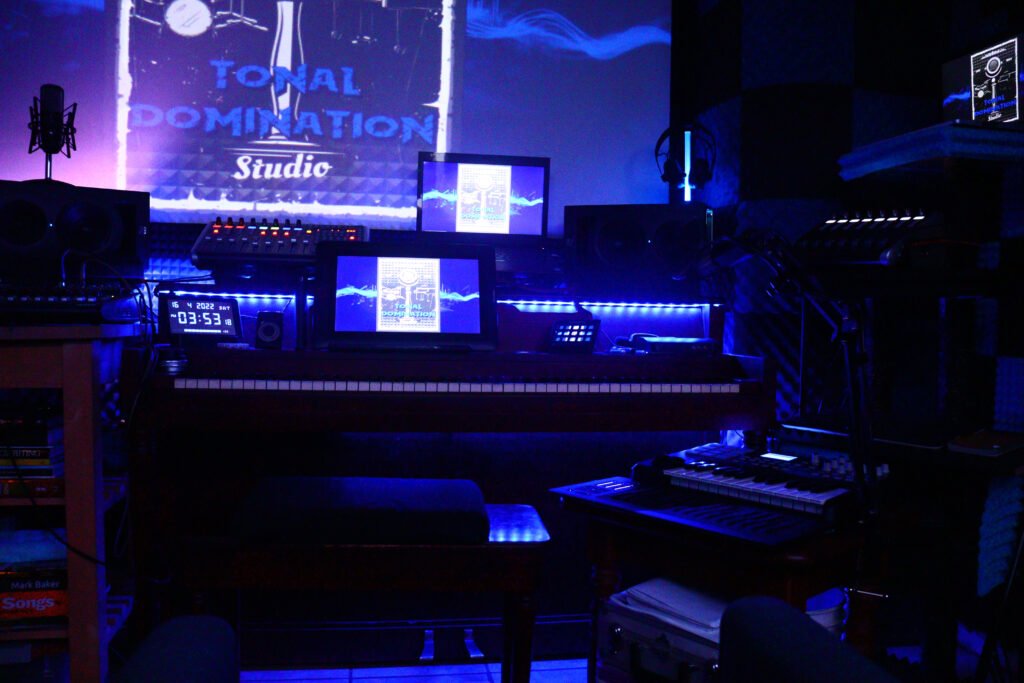 welcome to master station one.
Mixing, mastering,
Midi Keys, 5D midi polyphonic expression, Film/Video Tracking,
& a 1956 wurlitzer piano all from a single composer's bench.
This is a full and complete songwriting/score writing creation station arranged to help effectively transform your musical thoughts from conceptual ideas into polished and finished realities all in one conveniently centralized location.
say hello to master station two.
Full backline of drums, guitar and bass gear, mics, analog and digital preamps and processors, as well as full automation control for tracking, mixing and mastering.
Master Station Two is a perfect setting for a solo artist or full band to flesh out and track their live instrumentation and vocal ideas and bring them to life.
Full range of audio services
Single, EP, full length... we've got you covered.
Specializing in all aspects of audio, from recording to mixing, mastering, and finalization.  Whether it's your solo or band project, or the score and foley work for your next film or video game… Tonal Domination Studio can get the job done for you. 
Tonal Domination Studio utilizes vintage and modern gear from both the analog and digital realms to help you capture the tonal sound that you desire.
With 20+ years of mixing experience, Tonal Domination Studio is here to put their knowledge and skills into your next mix.
Tonal Domination Studio will get the master right for you, whether it be for print, streaming, or press to vinyl… you will recieve a master for each with our mastering packages.
Tonal domination studio offers a full array of services in both single service accounts and full package deals, book your next project with us today.
Leave a message and we will get back to you ASAP.
Email services@tonaldominationstudio.com